We endeavour to promote sustainable livelihood options for increasing household income, enhancing food and nutrition security and the overall quality of life of excluded communities.
SEEDS facilitates climate smart practices, entrepreneurship and gainful self-employment among the young. Vocational training and preparation of small business plans for group/individual, skill and entrepreneurship development training equips the trainees to start/ improve their occupation and enhance the family income.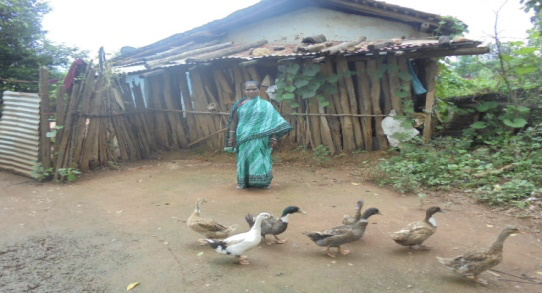 Few of our interventions include 
setting up of seed banks; 
introduction of less water sensitive crops of minor millets and coarse grains such as bajra, kodo, madua, makai

 

and legumes like sutli, arhar, romha, roots and tubers, oilseeds in the forest villages having an undulating topography; 
use of organic pesticides; organic treatment of seeds prior to sowing; 
system of rice intensification; 
garbage compost pit and

 

vermicompost pit at household level; 
fish, poultry, goat, pig rearing; 
value addition to farm/forest produce; catering, hand pump repairing, motor driving, welding and carpentry.
It was difficult to make both ends meet with her seasonal income as a daily wage earner. Tired of her subsistence living,  young  Parvati Singh belonging to the Bhumij tribe took  a loan of Rs.4000 from SEEDS which she  decisively invested in buying two  goats. This number multiplied six fold in about two years.  Parvati made a profitable deal by selling five male kids, fetching  Rs.20000  which was optimally utilized in buying a second hand bike and a calf, which has now turned into a milch cow. Currently  Parvati is a proud owner of 17 goats (worth  about  Rs 85000). She sends both her children for taking tuition after school hours. And of course she no longer is a daily wage earner.
 At SEEDS, no contribution is small. Become harbingers of change by affirmative action.